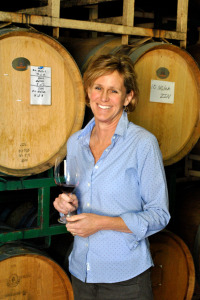 Honored as Woman Winemaker of the Year in 2008, and winning multiple back-to-back Sonoma County Harvest Fair and San Francisco Chronicle Sweepstakes, Diane Wilson has shot to the forefront of the Sonoma County wine industry. These highly–regarded awards, coupled with dozens of 90+ scores and over 100 Gold Medals, demonstrate Diane's strong track record as an outstanding winemaker.
Diane describes her winemaking style as unorthodox. "My goal is to maximize the fruit flavor of the grape, making sure each wine has a front, a middle and a back, so it produces a full, rich mouth feel. To do this, it is all about balance. It is about having the right amount of skin contact during fermentation to extract flavor and color without getting too much tannin. It is about leaving the wine to age in barrels for the ideal length of time to soften the tannins awhile adding the flavor of oak without overpowering the delicate flavors of the fruit."
With wines named after each of her three children, Diane's biggest passion in life is her wonderful family. Her daughter, Victoria, has recently joined her mother to carry the tradition of award-winning winemaking at Matrix into the future.