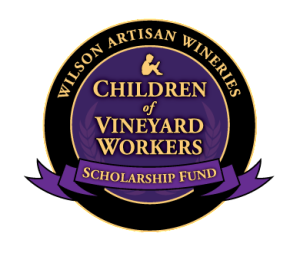 Seventeen years ago, Ken and Diane Wilson held a casual barbecue at Wilson Winery with the belief that children of Sonoma County vineyard workers should not be limited by financial hardships in their pursuit of higher education opportunities; thus began the Children of the Vineyard Workers Scholarship fundraiser (CVWSF). In 2002, the Wilson Family collaborated with the Sonoma County Farm Bureau given their deeprooted values in the agriculture industry and education. Each year, Wilson Artisan Wineries is honored to provide numerous scholarships benefiting youth across Sonoma County and has distributed more than $500,000 in scholarships since inception.
For more information, visit: http://www.sonomafb.org
Just in 2014, we have awarded $17,100 in scholarships to local students through the Children of Vineyard Workers Scholarship Fund. The award is not just for children whose parents work for the Wilsons—all in need are encouraged to apply. The program is administered by the Sonoma County Farm Bureau.
Here's how you can help:
Attend our annual event to show your support
Donate to the live or silent auction
We would like to encourage growers and vintners to donate $1 for every ton of grapes they produce.
You may send your tax-deductible donation to:
Children of Vineyard Workers Scholarship Fund (Federal ID # 75-3187688)
c/o Sonoma County Farm Bureau Foundation
970 Piner Road, Santa Rosa, CA 95403
Thank you for your consideration and support for this project. Please call us directly if you have questions or want to get involved.
All proceeds benefit the scholarship fund!